Source: Elorm Beenie (http://www.stonebwoyofficial.com)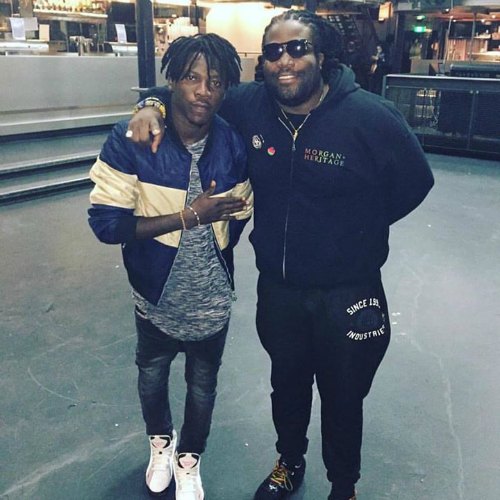 Grammy winning Reggae Music Group, Morgan Heritage, just announced Stonebwoy as one of the artistes featured on their upcoming album "Avrakedabra", due for official release on May 19, 2017.
Stonebwoy was featured on the GLOBAL REMIX single "Reggae Night" alongside Trinidad & Tobago Soca Viking BUNJI GARLIN, Nigeria's Timaya, Jamaica's Stylo G, Rock, DreZion & Jaheil.
Stonebwoy was featured on Jemere Morgan's "Transition" album released in January 2017 that crept to Number 2 position on the world Billboard.com charts few days after official release. He also played on Morgan Heritage's Europe Tour 2015 with "Strictly Roots" album which won a Grammy at the 58th edition of the Grammys.
2017 looks quite good for Stonebwoy with a lot projects. Oh, he copped 2 more awards at the recent Vodafone Ghana Music Awards (VGMAs) 2017 Edition – won "Reggae/Dancehall" category 3 times in a row. His cracker performance on the night is still fresh on the minds of many like Jamaica's Appleton rum.
Stonebwoy himself is due to release a next album titled "Epistles Of Mama" (EOM) this year – already has awesome featuring with Sizzla Kalonji, Pressure Buss Pipe, just to name a few.
Morgan Heritage released 2 promo singles off the album days ago; a 3rd one titled "We Are" featuring Kabaka Pyramid & Dre Island was released for promo on Wednesday, April 19, 2017 via Riddim Stream.  
BELOW IS A CULLED INFORMATION FROM A PRESS RELEASE BY MORGAN HERITAGE, OFFICIALLY RELEASED VIA RIDDIM STREAM.
As Morgan Heritage continues on the Avrakedabra World tour, a third single from the forthcoming album has been released globally not including North America. Produced by Llamar "Riff Raff" Brown & Morgan Heritage, "We Are" featuring reggae stars Kabaka Pyramid and Dre Island has received rave reviews and was featured on New Music Friday France on Spotify upon its release day of April 14th. Both artists named as part of reggae's resurgence and revitalization, all depictions used of late to describe reggae music and the new wave of young consciousness-raising, spiritually awaken artist evoking a golden era when the Reggae legends from the 70's sang of oppression.
The Royal siblings who have worked with some of the world's biggest names in music, explained the creation of "We Are", "We got the track from the producer a year ago from Jamaica and when writing the song, the idea came up to feature Kabaka and Dre on the song. We reached out to them and they were both game to get it done. Their enthusiasm to work with us can be heard in the song. When putting on the final touches and mixing the song in Miami, we all felt this song would definitely connect with this "Intergalactic Generation" stated Mojo Morgan.
"The statement "We Are" makes is simple. The youth are the future! We are hoping to inspire the young generation to come together, mobilize and change the world for the better. The future belongs to the youth, and we want them to start at a young age on working to make the future of the world better for all mankind." Peetah further added.
(Story: Elorm Beenie)
Morgan Heritage features Stonebwoy on their new album #Avrakedabra