South African Female Rap Diva 'Rouge Rapper' Throws Shade At DJ Quest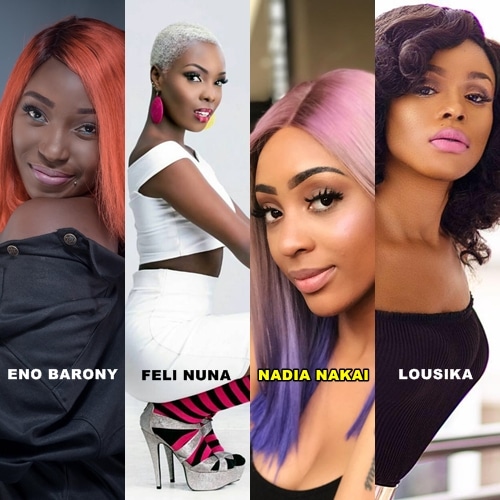 At 4:57 pm on 30th November 2017, ahead of the SConcert which enlists 2MG Music female rapper Eno Barony, DJ Quest took to his twitter outlet to create a Twitter Poll with the mindset  of engaging the fans prior to the show.
The Poll lists four female rappers: Eno Barony, Lousika, Feli Nuna all from Ghana and Nadia Nakai of South Africa.
Unfortunately, the good course DJ Quest took suddenly turn sour when some fans of the diva of rap from Pretoria Rouge Rapper commented and tagged her under the Poll drawing her attention.
Looking at the subject matter of the Poll which is to vote the favourite female rapper got the female Mc Rouge unhappy.
Thus, she quickly took to her twitter handle to pass a comment which was an indirect shot of the poll created by DJ Quest.
Her tweets state "Don't need to make your Mc list to let me know I can script. don't need a rapper to swallow to let me know I can spit. "I'm good guys (emoji) back to work".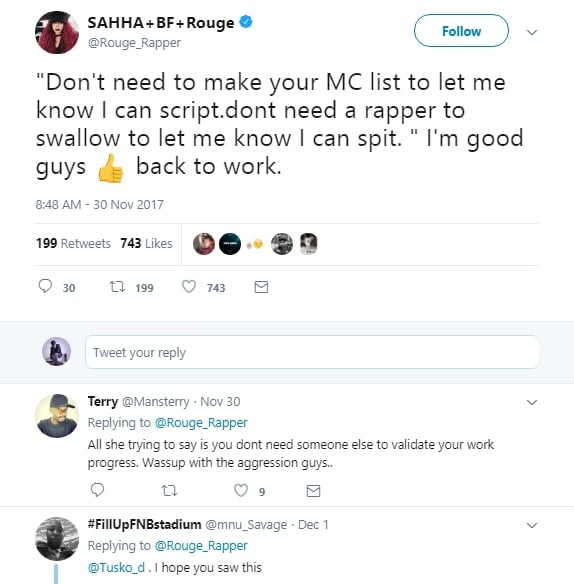 DJ Quest upon hearing the gist took to his twitter again tweeting "Sending love to that cute sister. This is my list, not hers." 
As to what will probe the next stinky tweet from Rouge, we are yet to cover tracks on that.  Rouge was supposed to perform at the just ended concert held at FnB Stadium by Cassper Nyovest which successfully sold 68,000 tickets.
As to why she didn't perform at the concert is yet to be unmasked, but from our perspective, the female rapper Nadia Nakai in DJ Quest's Poll is also booked to perform on the same platform. The Question is, could it be that DJ Quest created some ugly tension between these two FMcees in South Africa right now making one not to turn up on the same show they are supposed to perform at?
READ ALSO: DJ Sly Releases Artwork for First Compilation Album "UPNESS"
Well, Eno Barony is quite leading on the Poll with 45%, Nadia Nakai 27%, Lousika 14%, and Feli Nuna %. The King of Queens is ready to drop one hot and spicy song with a rap flavours before the year comes to halt. Anticipate for another classic one from Eno Barony whilst we bring you the gist from @Rouge_Rapper (Twitter) and @AmDJQuest (Twitter).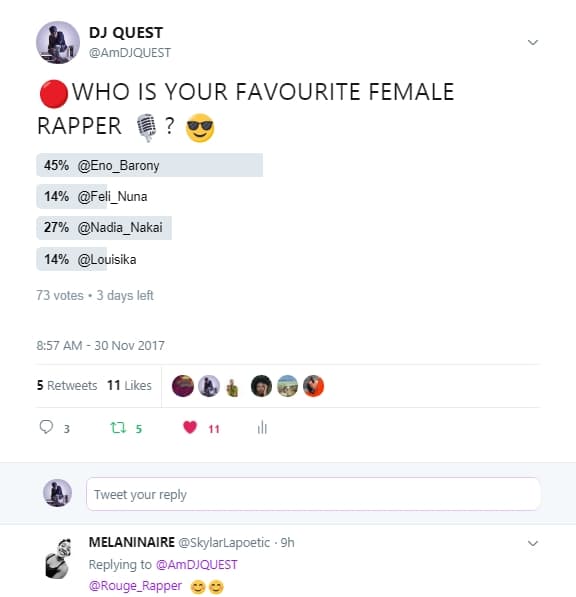 TWITTER: @Rouge_Rapper / @AmDJQUEST
TWITTER POLL LINK: https://twitter.com/AmDJQUEST/status/936278056368472065
Source: Submitted