Teach the masses to purchase our music from online stores – Stonebwoy to Bloggers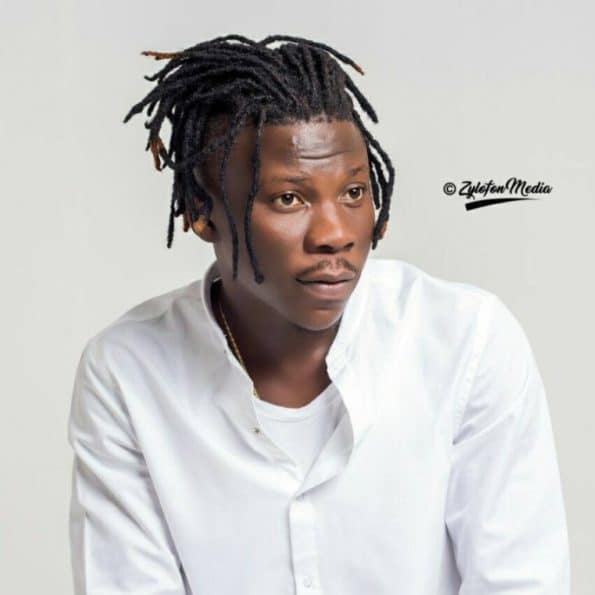 For some time now, many Ghanaian Musicians have 'suffered' several instances where some Ghanaian bloggers 'hack' their songs from music stores and re-upload on their blogs for free downloads. These unauthorized uploads sometimes create problem for these musicians who've signed to 'major record labels'. Stonebwoy for example suffered this a lot this year when he released songs "Enkulenu", "One Thing", "Come From Far" and the very latest one "Falling Again" featuring UK-based artiste, Kojo Funds.
Stonebwoy couldn't handle the situation anymore so he took out time to write his thoughts (below);
Meanwhile…
My fellow bloggers for our "tiny" music "industry" sake! Kindly teach and encourage our beloved masses to purchase these songs/albums that Musicians Crack our brains and squeeze our creative juices to make, PAY hard earned monies to produce Mix And Master and Pay even bigger sums to film a video for.
"These BLOGGERS" PURCHASE the songs [which is right] from all these legal online stores but then turn around to put it out on their platforms for free download.( making monies into their pockets off the traffic they direct to their sites and sometimes for a fee indirectly as u log on to their sites)
in the name of promotion..
The Part that kills Me most is that not only do they do so but also Tag it with Their Own Slogans ..reducing the quality of the songs on top [ why it be featuring 😂]
The sad part is that They know The right thing to do is to post the links from the online stores by the artistes on their sites which will drive the same traffic there anyway for them to make their monies which is right so why then put the actual song out there for free…
1• What becomes of the artiste/management/record label etc.. they lose outright, all their monies and efforts invested.
2• it's illegal To Take an intellectual property for any form of secondary usage with the intention of making money off it much less Tagging It up without clearance form rightful owners…
Is it because our musical laws Don't seem to Work and perpetrators may always get away with it without any lawsuit… the time go come.
How then do you expect YOUR artistes to match up and fit into the international space..
when we are doing everything possibly local to get there…
You see Our fellow bloggers posting stories of other artiste hitting thousands and millions of streams and sales on Spotify and iTunes and the rest.. Going Gold and platinum amongst others.. won't You be happy to SEE us making the Streams and Sales Too…?
It all starts from this very "insignificant" stage, which doesn't really matter to nobody..
[ imagine spending money to produce a commodity and giving it out for free ] Like for instance Vodafone spending monies to print recharge cards and giving them out for free.. in the name of promoting their brand and only charging gate fees at Vodafone events lol 😂]
And to the individuals who also re-upload these songs on to their SoundCloud and other platforms kindly it's not a good idea..except it's your own material why NOT.
ITS not that expensive to buy songs/ albums of your favorite artiste from the online stores!! just stream it if you can't buy…
Example:
https://itunes.apple.com/gb/album/falling-again-feat-kojo-funds-single/id1271606113
BUY 'Stonebwoy – Falling Again' Available On iTunes / Apple Music.
Source : www.beeniewords