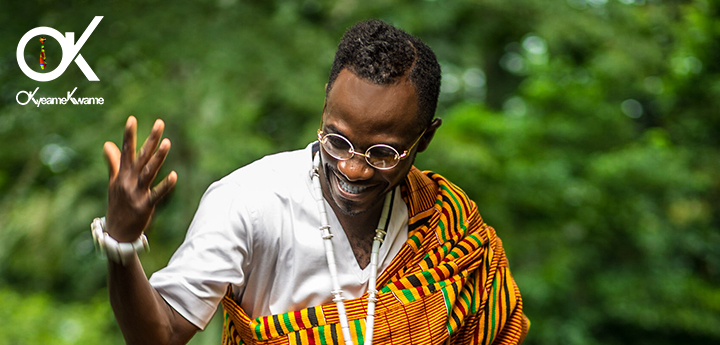 Early life
Kwame Nsiah Apau was born in Nsuta, Ashanti Region of Ghana. He is the third of six siblings. His two younger brothers, Kwaku Nsiah Boamah nicknamed "Stone" and Kwaku Nsiah Amankwah nicknamed "Kunta Kinte", also perform nowadays as the hiplife duo "Bradez". His parents expected him to become a physician, yet he gained interest in rap music from a very young age, having written his own songs and performed in local shows ever since he attended the Anglican Senior High School in Kumasi. He later attended Kwame Nkrumah University, where he studied music and specialized in classical guitar, later graduated as a linguist. From 2015, Okyeame Kwame is studying for a master's degree in Marketing Strategy at the University of Ghana Business School.
Musical career
In 1997 he achieved notoriety as a member of the "Akyeame" hiplife duo, together with fellow Ghanaian Daniel Kofi Amoateng (under the stage name Okyeame Kofi). They recorded together the albums "Nyansapo" ("Witty Knot", 1997), "Nkonsonkonson" ("Shackles", 1998), "Ntoaso" ("Continuity", 2000) and "Apam Foforo" ("New Testament", 2002). He performed solo under his own record label One Mic Entertainment, in Accra since they parted in 2004. He also featured renowned Ghanaian highlife and hiplife artists as Daddy Lumba, Kojo Antwi and Ofori Amponsah.
For declaring himself B.R.A (Best Rapper Alive) in a song he recorded after winning Ghana Music Awards Artist of the Year award in 2009, Okyeame Kwame sparked a conflict with fellow Ghanaian rapper Obrafour, who saw himself more deserving. This resulted in one of the memorable feuds the Ghanaian music scene has seen, with Obrafour challenging Okyeame Kwame to a rap battle on the streets which was never honored. In 2011, after Obrafour had apologized for his actions Okyeame Kwame explained he declined Obrafour's challenge because there was no need for it at the time, as winning Artist of the Year was vindicative enough.
Okyeame Kwame has contributed his due to education and the promotion of scholarship, his rap lyrics (which incorporate didactic themes, social consciousness and poetry) being studied in some Ghanaian universities.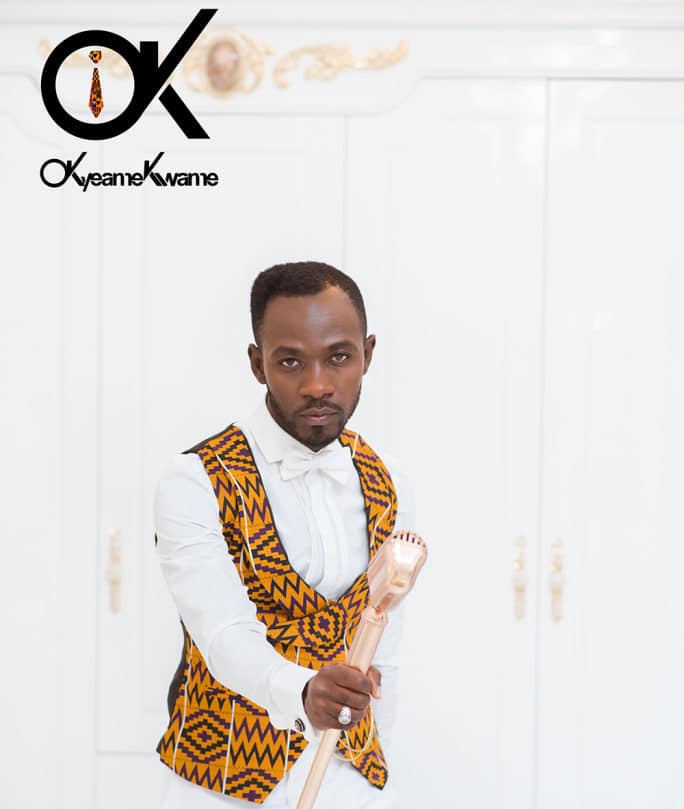 Style
Okyeame Kwame raps and sings mostly in Twi dialect of the Akan language of Ghana. His stage name Okyeame chosen to reflect his lyrical fluidity means "linguist (of the royal court)" in his native Akan.
Other venues
Aside from musical performances, Kwame launched in 2012 "The Versatile Show", produced by himself and performed biannually at the National Theatre, a theater show in which he blends his music with drama and poetry.
Business career
Kwame runs his own record label One Mic Entertainment and also Firm Bridges Communications, co-founded with his wife, and he is partner in the shoe manufacturing company Horseman Shoes. Due to his notoriety as a national icon in native Ghana, he became brand ambassador for MTN Group, GT Bank and Coca Cola in Ghana, aside being appointed the public relations officer of the Musicians Union of Ghana (MUSIGA) from 2012 and the Ghana Music Right Owner (GHAMRO) in 2014.
From 2015, Kwame has also been appointed as ambassador for "My African Union, My Voice" campaign launched by the African Union in Addis Ababa as part of the activities of the "State of the Union" (SoTU) – a Pan-African Civil Society Organizations project which is currently being implemented in African countries including Ghana. The stated goals of the campaign are to help creating public awareness of the objectives of the African Union and to promote active citizen participation in the implementation of its protocols, conventions and policy decisions at the level of the member states of the Union.
Also, from 2015 he got appointed as ambassador for the Junior Boys Mentoring Conference, a youth-focused non-governmental initiative in Accra which seeks to equip young people with the necessary knowledge and skills that will enable them to tackle challenges as they come into contact with the outside world.
Discography
Kwame released his first solo album "Boshe Ba" (Promised Child) in 2004, just after the breakup of the Akyeame band. He followed in 2008 with "Manwesem" (My Poetry) and in 2011 with "The Clinic", launched at the Aphrodisiac Night Club in Accra. In 2012 he launched "The Versatile Show" ("Konfanko").
Film and television
Okyeame Kwame has helped to discover native African talents by working as a judge on music reality shows in Ghana and has also acted in Ghanaian films Ties That Bind, The Comforter and Amsterdam Diary.
Personal life
Kwame is married since 2009 to Annica Nsiah-Apau and they have two children together, Bota and Sante Antwiwaa.
Philanthropy
Okyeame Kwame founded in 2009 the Okyeame Kwame Foundation, to raise public awareness on hepatitis B and to provide screening, prevention and education to mitigate the disease in Ghana, backed by MTN Ghana and the MDS-Lancet Laboratories. Periodic screening and vaccination campaigns are held throughout Ghana, attended by hundreds of people who receive free vaccines. In 2014, he staged the Celebrity Car Wash, an event including sports, games and photoshoots with celebrities in East Legon, to raise funds in support of his campaign to provide free vaccination to at least 1000 Ghanaians. The foundation has initiated and sponsored the construction of a hepatitis B treatment facility in Tamale.
For his work in raising the funds to provide free screening for the Ghanaian urban and rural poor, Kwame has been appointed Hepatitis B Ambassador for the Ghana Health Service.
Source : https://okyeamekwame.me/