The sensational singer we now know as Adomaa was born as Joy Onyinyechukwu Adomaa Serwaa Adjeman to a Ghanaian father and Nigerian mother in Kaduna, Nigeria.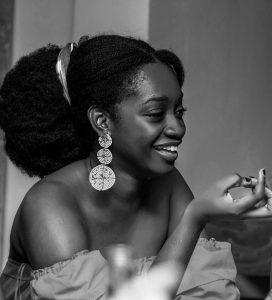 She is the first of five children. Raised in a mission home, she learnt very early how to take on responsibility and to look after others before herself.
EDUCATION
In 2004, she moved back to Ghana, the country that she now calls home, where she subsequently attended Wesley Girls High School. She then went on to pursue a journalism degree at the Ghana Institue of Journalism, and practiced in the field thereafter.
MUSIC CAREER
Her foray into music started with the release of the hit mashups Baafira-Adonai and the Evolution of Gh Music, and now, after the release of her first original music project, Afraba the EP, Adomaa the full time artiste has come to stay.
She just won the Vodafone Ghana Music Awards Unsung Artiste 2016, confirming her status as one of the brightest young talents in Ghana at the moment.
Adomaa grew up in a very musical family and as such, music played a big part in her life from very early on. She developed a strong attachment to a certain kind of music; a passion for the kind of sound that is not merely listened to and moved on, but the kind that reaches deep into the listener's soul, deeply affects their emotions, and has the power to influence perspectives.
For the longest time, music has been her source of strength when life gets tough. She hopes that through herself, she can provide others the same type of strength that she has found in her art.
– I love to sing. It's my getaway, my only sanctity. Singing soothes my soul when my world seems to crumble. It's my bout of joy, joy which is only augmented if this same effect is attained by people when I sing. – Adomaa
Adomaa is bringing a refreshing new surge of unique artistry to the world of Ghanaian music, with her personal style: an exclusive melange of jazz, soul, highlife and afrobeat, with a voice that may sound sweet and light, but has the ability to reach into the depths of a listener's soul. As more than just a musician, Adomaa's desire is to personally touch people's lives and simply bring them joy through her music, as well as create an individualistic blend of jazz and Afro pop culture that relates to as many people as possible. Her desire is not just to be an entertainer, but to be a relevant entertainer, that performs and shares her talent with true meaning.
The one genre of music that spoke first to me was Jazz in 1998, when I heard the song L.O.V.E by Michael Buble from the soundtrack of the movie, Parent Trap. Since then, I've followed the likes of Michael Buble to the sultry vintage sounds of Ella Fitzgerald, Sinatra etc. – Adomaa
There are many adjectives to describe the kind of sonic art Adomaa produces; she can be sweet yet soulful, soothing or sultry, vintage but classy, African and creative. But above all, Adomaa is just herself, a simple, down-to-earth soul with a positive outlook on life, and her mission right now is to spread and share her music, talent and art far and wide so that as many people as possible can benefit and find inspiration from the very thing from which she draws hers. Yenkor!
Biography / Profile of Ghanaian Music artiste Adomaa