Charity Organisation Talk2Tiana Donates To Mental Health Facilities In Ghana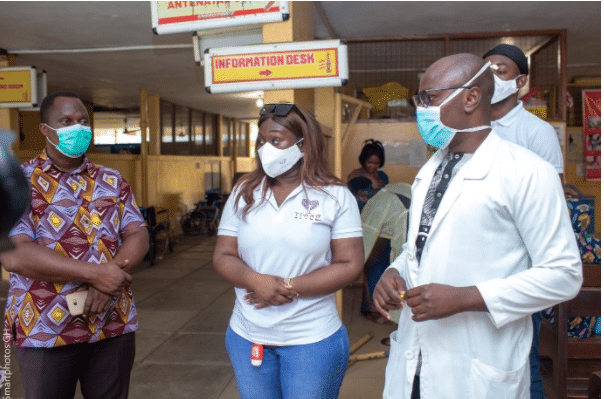 In their quest to fight the snowballing deadly coronavirus pandemic which has claimed millions of lives, the charity organization Talk2Tiana has donated items worth thousands of cedis to mental health facilities in Ghana.
The donation which took place in Accra through the Mental Health Authority saw the Accra Psychiatric hospital, Ankaful, and Pantang general hospital receive sanitary towels, face masks, hand sanitizers, and water to the various hospitals. The foundation then went on to distribute food items, to the Adabraka Polyclinic and those less fortunate on the streets of Accra.
Presenting the items to the mental health authority, founder of the foundation, Tiana, underscored the need to champion mental health awareness and also donate to mental health patients in the country.
According to her, during this pandemic she's noticed that there has been a lack of psychological support to help people with their wellbeing during this time. Also as the UK marks mental health awareness week, it was prudent to show love to patients in the various mental health facilities whilst in Ghana.
Receiving the items on behalf of the mental health authority was the Director of Administration, Mr. Victus Kwaku Kpesese, and Head of communications Mr. Kwaku Brobbey. They spoke on behalf of the CEO, Dr. Akwasi Osei, and thanked the team for their benevolence towards the mental health facilities in Ghana. Mr. Kpesese and Mr. Brobbey assured that all the items will get to the respective facilities. Mr. Kpesese then furthermore assured the ministry's preparedness to collaborate on other initiatives to help mental health in Ghana.
"Thank you all for reaching out to us and especially our patients through your charity this morning. We would like to assure you that every item you brought to us will get to the targeted groups, the 3 hospitals operating under us. I would like to assure you that we are more than prepared to collaborate with you as far as mental health is concerned".
She further seized the opportunity to thank Delay, Yazz Ghana, Special Ice mineral water, Qwick sanitizer, and sa4a for their immense contribution towards the project.
SEE IMAGES BELOW:
Source: Submitted