---
If your boyfriend has a girlfriend, are you in a polyamorous relationship or are you the side chick? This is the question posed in Allisn's new hit "Kwesi," which explores and challenges the dynamics of a polyamorous relationship, focusing on the often unfortunate degradation of the female.
In her somewhat satirical music video, Kwesi represents a playboy who has multiple lovers, all of whom know about the others, but are still in love with him.
Production credits to Jayso.
Stream on iTunes, Spotify: http://fanlink.to/kwesi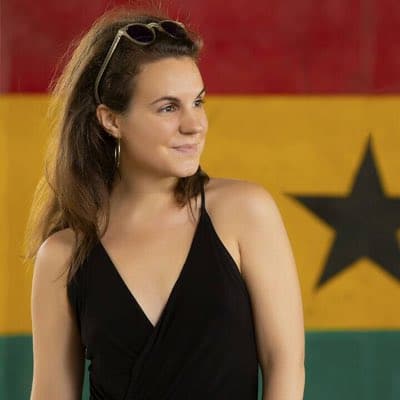 Allisn is a singer/songwriter who grew up in Austria and Israel/Palestine. Having grown up amongst many Ghanaians and Nigerians in Austria, Allisn was exposed to African culture and music at a very young age.
After traveling around the Caribbean and South America for over a year, Allisn felt a very strong pull to move to Ghana, and less than a year later, moved to Accra with the desire to make an Afro-fusion album. Allisn relocated to Ghana in July, 2017 and quickly immersed herself into the music scene, working with top producers, including Jayso and Unklebeatz.
With a love for creating smooth renditions of popular dance songs, Allisn initially recorded a number of mashups of various popular Ghanaian songs that gained a lot of positive traction. On October 9, Allisn released her first original track titled "Kwesi."
With smooth and sultry vocals, risqué and intriguing lyrics, and a catchy and danceable beat, Kwesi is sure to be the newest hit to reach Ghana.
Allisn will be releasing her debut 5-track EP titled "Circa 1993" on November 11th , each song reflective of her experiences and observations in Ghana from the perspective of a foreigner.
Allisn is a gifted lyricist and creates songs that combine a powerful message with smooth vocals and a catchy beat.
Be sure to follow Allisn's journey and keep up with her whereabouts on all social media platforms.
Connect With Allisn via Social Media
Facebook : http://bit.ly/2AZeLMs
Twitter : http://bit.ly/2oyqPS7
Instagram : http://bit.ly/32hU4ao
Soundcloud : http://bit.ly/2q3zLiY
SHARE THIS!